Adam Dabrowski is a contemporary, London based artist rapidly emerging
as an exciting and innovative painter recently selected for the 2020 ING Discerning Eye exhibition.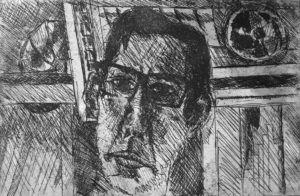 His large scale, colourful and dramatic paintings are timeless and poetic works of art that aim to provide an anchor point in our own existence and experiences. "I paint to make a strong visual impact and tell a story".
He is influenced by great contemporary and modern artists that broke convention and persevered with their own style.
"I put down on the canvas the sudden visions which force themselves on me. I don't know beforehand exactly how the vision will emerge, even less can I decide what colours to use. Each time I begin a picture, I have the feeling of throwing myself into space. I never know whether I'll land on my feet. It's only later that I begin to assess the effect of what I've done".
Recent paintings include an intense and vivid cliché of "Venice Beach", disclosing spatial and nostalgic imagery for this palpable landmark.
Adam's very latest 2020 painting "Picasso on a Bull", was for him a colossal undertaking both in terms of size (Over 2 metres tall and wide) as well as the subject matter and magnitude of the artist portrayed. "I was both excited and terrified of the vision involving an older Picasso, dressed in a costume resembling a Matador-like General, calmly sitting on a crazed-looking bull, trying to forget the stature of the artist I was evoking staring back at me".
Also for 2020 his version of the iconic "A bigger Splash" by David Hockney using bold shapes and colours to offer his take on this seminal work. The inclusion of Hockney dipping his legs in a brashly coloured yellow swimming pool, humorously entitled "Splash and Dave".
Born in London, Adam Dabrowski holds a diploma in Portraiture from Heatherley School of Art. His goal as a contemporary artist is to not just paint what people look like but what they might feel like and how they might dream.