Adam Dabrowski is a contemporary, London based artist rapidly emerging as an exciting, colourful and innovative painter.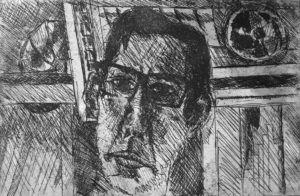 To tell a story....to move someone
Boldness of colour....
Inspired by Theatre.......Films
Fairy tales, poems, fantasy......transformation
The desire to "Create a Movie in a painting"
Adam Dabrowski grew up in London in the 1970s, born to Polish parents and educated at the French Lycée in London, he was immersed in a deeply multicultural community. At his heart, however, he feels British and London life has firmly shaped his attitudes.
As a young person, painting gave him a sense of escape via his colourful, imaginative scenarios, an opportunity to get lost in another world - feelings reflected in his most recent work "Alice in Modern-Land" in which Alice reaches up for the transformative, colourful and magical liquid, that transports her to a psychedelic and perhaps idyllic destination.
In 2017 Dabrowski underwent three years of art education resulting in a portraiture diploma from the Heatherleys School of Fine art in Chelsea - followed by further in-depth studies at North London's Essential School of Painting.
Showing art and story telling to the public is his overwhelming ambition as witnessed in his recent outdoor pop-up exhibition in London "My Cube".
He currently paints from his London studio, current projects working on for 2023 include his dramatic version of "The Owl and the Pussycat" as well as an ambitious "Art meets installation" project entitled "The Tree of Life" watch this space....