Adam Dabrowski is a contemporary, London based artist rapidly emerging
as an exciting, colourful and innovative painter.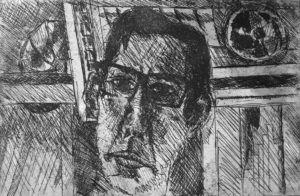 His large scale, colourful and dramatic paintings are timeless and poetic works of art that aim to provide an anchor point in our own existence and experiences. "I paint to make a strong visual impact and tell a story".
"I put down on the canvas my ideas and intuitions as an opening armature. Colours and forms become the building blocks that allow the emotion and mood to emerge from the painting. Depth and atmosphere are my goal and being true to my own design and choices allows me to put across the painting story as specifically as I felt it."
He is influenced by great contemporary and modern artists that broke convention and persevered with their own style.
Recent paintings include an intense and vivid cliché of "Venice Beach", disclosing spatial and nostalgic imagery for this palpable landmark.
Adam's 2020 painting "Picasso on a Bull", was for him a colossal undertaking both in terms of size (Over 2 metres tall and wide) as well as the subject matter and magnitude of the artist portrayed. "I was both excited and terrified of the vision involving an older Picasso, dressed in a costume resembling a Matador-like General, calmly sitting on a crazed-looking bull, trying to forget the stature of the artist I was evoking staring back at me".
Born in London, Adam Dabrowski holds a diploma in Portraiture from Heatherley School of Art and further studies at The Essential School of Painting.